Number of long-term unemployed older workers quintupled. The help hasn't.
Older jobless workers have a higher rate of long-term unemployment than any other group. And employer policies end up discriminating against them. Yet workers age 50 and up comprise nearly a third of the US workforce. Policymakers must help this key demographic find good jobs.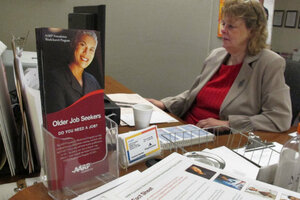 Kantele Frank/AP
March's disappointing employment report reminds us that a strong jobs recovery is still far from reach. There are still 12.7 million Americans looking for a job, and certain groups are having an exceptionally tough time when they go job hunting. The numbers tell a grim story: Not all jobless Americans are treated alike – especially older workers, people age 50 or above.
On one hand, older Americans fare relatively well in the labor market. Last year, they had the lowest average monthly unemployment rate of any age group (6.7 percent). But that rate is more than double their rate in 2007 (3.1 percent). And once older workers lose a job, they are more likely than younger workers to remain unemployed – which is where the hardship really sets in.
During the recession and its aftermath, the number of long-term unemployed older workers more than quintupled, the greatest percentage increase out of all age groups, from 325,000 to 1.8 million.
In 2011, more than half of older jobless workers were out of work for at least six months. And 4 in 10 older jobless workers were jobless for a year or more, a percentage no other age group comes close to. In March, workers age 55 and older had an average duration of unemployment of about 57 weeks.
Prospects are dim for older workers who lose their jobs. With commitments like family or a mortgage, less geographic mobility, and often less capacity to switch career tracks, it's much more immediately precarious to lose a job when you're older than when you're younger.
Retirement prospects and later-life well-being can take a big hit. A national survey of workers who lost their jobs during the recession found that a majority age 55 and older experienced a decline in savings while unemployed. Closer to a traditional retirement age, they then have less time than younger workers to replace lost savings.
Limited job prospects make delaying retirement a difficult option, and make forced early retirement more likely.
---