How a glacier could thaw dangerous India and Pakistan freeze
Following a deadly avalanche in the disputed Siachen Glacier area, India and Pakistan have signaled openness to talks. A priority must be to demilitarize 'the world's highest battle ground' at Siachen, which incurs substantial economic and human costs for these two nuclear rivals.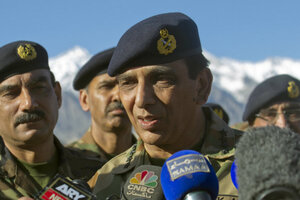 B.K. Bangash/AP
Caught up in the dynamics of nuclear brinkmanship, India and Pakistan hold their entire region hostage to clear and present danger. But a recent impromptu meeting between two heads of state and a deadly glacial avalanche could be the start for thawing relations between the nuclear-armed arch rivals.
On April 8, Indian Prime Minister Manmohan Singh and Pakistani President Asif Zardari met in New Delhi, proffering a long-awaited opportunity to pursue stability in South Asia. Both their overtures signal a softening of attitudes. But will the meeting serve as symbolic kow-towing or will the statesmen open up space for future talks?
Since independence from British colonial rule in 1947, protracted territorial and political disputes have led India and Pakistan to engage in three full scale and three quasi-wars. Cross-border skirmishes are common. Indian allegations concerning Pakistan's involvement in a number of terrorist attacks inside its territory complicate relations further.
The intractable Kashmir conflict, the core of the strained relationship, makes it a veritable nuclear flashpoint. But the contention over Kashmir should not prevent India and Pakistan from solving problems on a host of issues of less strategic concern.
One such issue is the dispute over the Siachen Glacier, a territorial tussle with substantial economic and human costs for the two states. Tragically, on the eve of the meeting between the two heads of state, Siachen experienced a deadly avalanche killing 135 Pakistani soldiers and civilians.
---