To help world's children reach fifth birthday, look to this Bangladesh program
An innovative development program in Bangladesh is defying child mortality rates, ensuring children grow healthier and taller, by empowering women and educating families about nutrition. Global leaders should heed its successful model.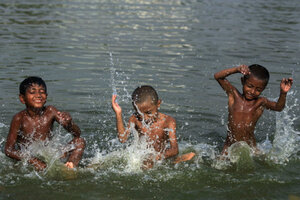 Andrew Biraj/Reuters
Last month, in the poor Bangladeshi village of Kawabadha, a shy little girl named Morsheda turned five years old in a brand new red dress. Morsheda sang and danced with her friends and family and feasted on a traditional dessert made of rice and sugar. But unfortunately, Morsheda's fifth birthday celebration is an event many children around the world will never experience.
Each year, 7.6 million children die before their fifth birthdays from preventable causes and diseases. These conditions are often worsened by the chronic malnutrition and food shortages. That is why last month USAID launched a public campaign called "Every Child Deserves a 5th Birthday" to help raise awareness and end these avoidable child deaths. The topic will enter the global spotlight this month as world leaders take on hunger at the G-8 Summit at Camp David.
For solutions, government and development sector leaders should heed the lessons of a massive-yet-innovative program that is not only helping children such as Morsheda reach their fifth birthdays but also ensuring they grow healthier, and in many cases, taller.
Called SHOUHARDO, a Bangla word for "friendship," the program is run by the poverty-fighting organization CARE, USAID, and the government of Bangladesh. The first phase, implemented from 2004 to 2010, represented the largest non-emergency USAID food security program in the world.
---