Obama's meddling puts the brakes on the green car industry
In spite of a decade of failed government vehicle-efficiency policies, Obama has poured millions into the 'advanced vehicle' and fuel industries and wants to increase involvement. Unfortunately, the harm done by these handouts will extend far beyond simply wasting taxpayers' money.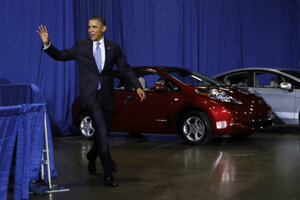 Jason Reed/Reuters
Fearing an electoral backlash over rising gasoline prices, President Obama has been touting his energy policies. "We can't have an energy strategy for the last century that traps us in the past," the president said in a recent appearance. "We need an energy strategy for the future."
Promising to save Americans money by having the federal government play a more active role in developing future energy-efficient vehicles, the president said of critics, "There always have been folks who are the naysayers and don't believe in the future, and don't believe in trying to do things differently."
What's strange about this futuristic talk is that Mr. Obama's plan to boost vehicle efficiency relies heavily on decades-old policies that have repeatedly failed. Indeed, the fuel efficiency of the US automotive fleet, which grew rapidly throughout the 1970s and 1980s, slowed significantly after the federal government became an active "partner" in vehicle design.
Before 1993, the federal government took mostly a backseat role in automobile design. Then President Clinton created the Partnership for the Next Generation Vehicle, a joint venture between the federal government and major American car companies.
"Today we are going to...launch a technological adventure as ambitious as any our nation has ever attempted," Mr. Clinton said in a Rose Garden ceremony. Vice President Gore added, "The public should expect breakthroughs that will redefine the automobile industry and position our companies to have an excellent chance to dominate the market for an entirely new kind of automobile."
Throughout the 1990s the Clinton administration kept up the hype, promising that by 2004 Detroit would be supplying consumers with 80-mile-per-gallon, family-sized vehicles. Yet by the dawn of the new century it became clear that this was a pipe dream.
---