From a ride in Ronald Reagan's limo, lessons on authenticity
On my first limousine ride alone with Ronald Reagan as a senior aide, he told me how much his mother shaped his beliefs. One thing about President Reagan, you knew what he believed in. Many voters may have a difficult time finding such rock-solid conviction in Romney or Obama.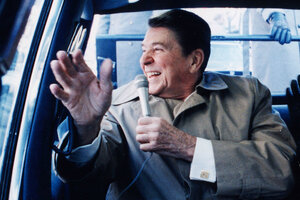 Reuters
Early one morning, in Ronald Reagan's first year in office, I walked briskly with him from the Oval Office to the motorcade on the circular drive of the South Lawn. I was scheduled to take my first limousine ride alone with the president as a senior aide. The trouble was, I had no idea which door of the limo to enter.
Reagan, always elegant of gait, strode to the right side of the car, and while intuitively sensing my predicament, but not engaged in it, waved me around the other side of the long black Cadillac – where I landed on the back seat next to him, avoiding what could have been an uncomfortable contretemps.
Our errand that day was for the president to unveil his public-private partnerships initiative. It was part of my responsibility in that first year to develop and manage what became Reagan's favorite domestic policy project. What unfolded on that ride, however, was far more than the typical policy briefing delivered to a president under way to an event.
Reagan talked the whole way, delivering an uninterrupted explanation – more of a sharing really – of the roots of the belief system that shaped his leadership.
One thing about Reagan was that people always knew what he stood for and where he stood on the major issues of his presidency. In the current political climate, many voters may have a difficult time finding that kind of rock-solid set of beliefs in either Mitt Romney or Barack Obama.
---