Supreme Court: After health care ruling, court must rule against affirmative action
Another blockbuster case will follow the Supreme Court ruling on the health care law known as Obamacare. Next term the court will hear Fisher v. University of Texas at Austin. The court should tell universities they must stop judging applicants by the color of their skin and national origin.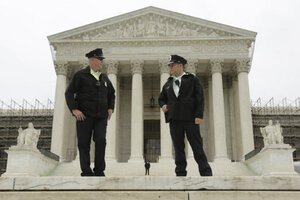 Kevin Lamarque/Reuters
Falls Church, Va. and Sacramento, Calif.
The US Supreme Court will soon decide one of the most consequential cases in years – the challenge to the new federal health care law, often known as Obamacare.
But right behind it comes another blockbuster case.
Next term the court will hear Fisher v. University of Texas at Austin. Health is still the issue – but this time, it's the health of our multiracial society. Will the public sector – and public universities in particular – finally move beyond a fixation with race, and start treating all people as individuals, not color-coded statistics?
At UT-Austin, admissions directors favor the race-based spreadsheet approach. Race is a criterion in undergraduate admissions – with favoritism for African-Americans and Hispanics – in an effort to achieve a pre-determined mix, or "diversity." Abigail Fisher, a white female, was denied admission, and she's suing because she was not evaluated on an equal basis with applicants from other backgrounds.
The court was correct to take this case. It needs to clarify, once and for all, whether the need for "diversity" justifies universities treating individuals differently because of their race.
When the court last considered this issue, in a pair of University of Michigan cases in 2003, it struck down racial preferences in one case but narrowly upheld them in the other. In the latter, Justice Sandra Day O'Connor warned, "We expect that 25 years from now, the use of racial preferences will no longer be necessary..."
---