'Having it all' is so 1980s
The debate about Anne-Marie Slaughter's Atlantic cover story on women and 'having it all' – career and family – is out of touch with the modern family. As a young couple, our question is how can we have just enough? We're attuned to core joys, not status and acquisition.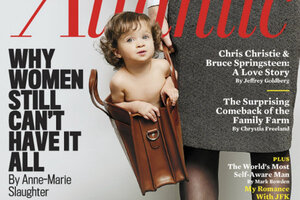 The Atlantic/AP
The latest spike in the "have it all" debate is characteristically out of touch with the reality of what modern families are like and how they function. White, privileged, heterosexual, and married, we are a poster pair for the discussion. And yet the ongoing buzz surrounding Anne-Marie Slaughter's recent Atlantic cover story on whether – and how – women can balance career success with family doesn't accurately encapsulate even our experience or ambition.
According to the Council for Contemporary Families, close to half of US residents 18 and older are single. Between 1965 and 2003, men tripled the amount of time they spent on childcare. At least 1 in 7 children live with a parent who had lost his or her job. US census data for 2000 suggests more than 250,000 children are being raised by lesbian and gay parents. The world, as reflected in this latest iteration of the "have it all" debate, simply doesn't cover the challenges and choices many families face.
As we look toward the next stage of our lives (more diapers, less dining out), we've been thinking a lot about where and how to live – our own "have it all" debate.
A daughter and a son of middle class Midwesterners, we've been dreaming about how we might remix the best of the families we grew up in – Courtney's parents' undying curiosity, John's parents' spirit of service – for our own moment.
In the 1980s, when we were coming of age, it made sense for our parents to strive and struggle with full-time work and co-parenting; they were in step with the more, better, faster times – aspiring to make more money than their parents had (our mothers were the first women in their respective families to work after giving birth) and own their own suburban homes, with a garage for two family cars. They raised us, and their other children, to dream bigger than they'd ever dared.
---