Voter ID laws are inherently reasonable, not racist or Republican
Analogies between voter ID laws and Jim Crow poll taxes are absurd. That pockets of citizens lack ID is a compelling argument for active voter registration drives, not damning attempts to curb fraud. Ensuring the integrity of our electoral process ought not to be a partisan issue.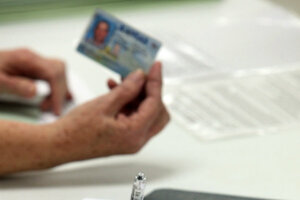 Travis Morisse/The The Hutchinson News/AP/File
Asking someone to show their "papers" may be an old movie cliché, but while such a request might have struck most Americans as sinister a couple of generations ago, they now understand that you can't get on a plane or conduct some of the simplest transactions without showing a government-issued card with your photo on it. Yet in spite of that fact, there is now a growing chorus of complaints that requests for such identification at polling booths is a throwback to the days of Jim Crow segregation and discrimination in the South.
Analogies between voter ID legislation and Jim Crow poll taxes are absurd. While segregationist laws sought to create fraudulent results, voter integrity laws have the opposite goal. The specious attempt to cloak voter ID opponents in the mantle of Rosa Parks and to paint the requirement as racist is not only without foundation since it applies to all citizens, it betrays a curious willingness to countenance the possibility of fraud.
Opponents need to resort to inflammatory arguments because voter ID laws are inherently reasonable. The overwhelming majority of potential voters have government-issued identification. And those states that have passed these laws have created mechanisms for those who don't have drivers' licenses to obtain a free ID. This bears no resemblance to a poll tax or any other segregationist tactic.
While any interaction with a state bureaucracy may well be unpleasant, it is not likely to be much more of a bother than registering to vote in the first place. Unless the desired outcome here is that anyone ought to be able to show up at the polls without proof of identity, their place of residence, or even citizenship, at some point election officials have a right to ask who they are.
---