Hillary Clinton must insist on a united Syrian opposition
When Hillary Clinton meets with Syrian opposition figures in Turkey this weekend, she must impress on them the need to unite their ranks and tolerate different views. Disunity in the opposition is perhaps the biggest reason why Bashar al-Assad remains in power.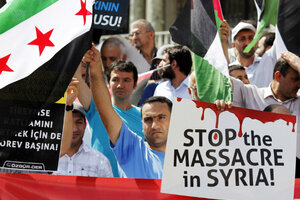 Osman Orsal/Reuters
This weekend, Secretary of State Hillary Rodham Clinton travels unexpectedly to Turkey to discuss the crisis in Syria and to meet with Syrian opposition figures. She must impress on them the urgent need to unite their fractious ranks.
Of all the explanations for why Syrian President Bashar al-Assad has not yet been toppled, perhaps the most important is the Syrian opposition. Its continued inability to unite has contributed greatly to the drawn-out uprising, which has lasted longer than any other in the Middle East.
Of course this is not to belittle the huge odds that are stacked against the opposition. Its military arm, the Free Syrian Army (FSA), is, after all, fighting Mr. Assad's killing machine and his divide-and-rule strategy with minimal international support.
This reality notwithstanding, it should not obscure the fact that the Syrian political opposition's performance so far has been dreadful and its behavior more often than not has been counterproductive. The political opposition, specifically the Syrian National Council (SNC), is not a hopeless case but it can and should do much better. The Syrian people deserve nothing less.
You do not have to be an expert on Syria or even be familiar with the state of the Syrian opposition to know of its deep troubles. Consider this latest story:
---