Why peace has a foothold in the Philippines
The Philippines has been fighting a decades-long insurgency. But a cease-fire is holding and peace talks are advancing. What makes this possible is commitment from the top and the bottom: Leaders insist on moving ahead, and warring families want peace for their children.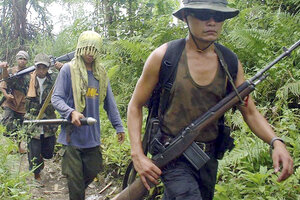 Reuters/file
I've recently returned from six months in the Philippines, where another milestone has been passed in peace talks between the government and an armed rebel group, the Moro Islamic Liberation Front (MILF). The milestones are starting to add up, and the destination of peace is finally – after decades of war – coming into view, offering hope to Filipinos and, perhaps, other conflict zones in the world.
The Philippine conflict is centered in Mindanao, the southern island, where the MILF and the government have battled each other year after year. Clan warfare plays a role, and so, too, does a sense of injustice among the island's Muslims toward the country's dominant Christian population.
Perhaps the war's most devastating mark has been the culture of fear that pervades this Pacific archipelago of 92 million people. Those in the north tend to lump all of Mindanao into one large, terrifying hotbed of armed conflict. The fear also pervades Mindanao – including places that are relatively removed from violent clashes. At any moment, violence could erupt, a bomb could go off, and a place called home could be engulfed in flame.
In April, however, the Philippines government and MILF took a giant step toward peace, agreeing on ways to create an autonomous political entity in the southern region of Mindanao. The agreement demonstrates the earnestness of the two parties to come to a negotiated settlement. A radical fringe group has tried to thwart the peace efforts, but has not succeeded.
In my work as a conflict-resolution specialist on Mindanao, I also met dozens of local "peace practitioners" whose commitment is crucial to a successful outcome of the peace process. Many of them are directly affected by the war. They willingly enter the most violent areas, providing relief in the midst and aftermath of violent clashes, help in healing trauma, temporary shelter for displaced people, and grassroots training in nonviolence. Theirs is a holistic approach to creating a culture of peace in Mindanao – from elementary schools to politicians.
---