Japan-China island clash: Peace in a common history
The island clash between Japan and China, as well as other island disputes in East Asia, could be more easily resolved if neighbors shared a common view of history.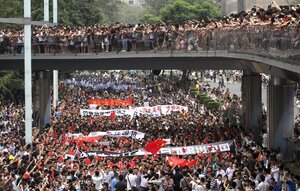 AP Photo
Thousands of Chinese rose up in protest against Japan on Sunday, hitting out at Japanese cars and businesses. It was the third such protest in seven years following clashes at sea over each country's claim to a group of small islands.
The violent outburst of nationalism in China – echoed more quietly and peacefully among Japanese – came just days after South Korea provoked outrage in Japan over a visit by its president to disputed islands in the Sea of Japan.
And China has also recently stoked protests in the Philippines and Vietnam over its attempt to take control of small islands in the South China Sea.
To some degree, these clashes in East Asia are driven by each nation's desire to tap the rights to seabed oil and fisheries around the islands or by weak leaders seeking to boost their standing by using patriotic anger.
But underlying the fervor over the territorial disputes are deep emotions tied to the region's history – especially over how each country interprets that history.
---