How to arrest Julian Assange without violating international law
British authorities forcefully entering the Embassy of Ecuador in London where WikiLeaks founder Julian Assange has taken refuge would not only be illegal but also set a frightening precedent, putting embassies around the world at risk. Thankfully, Britain has other options.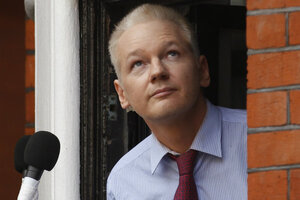 Sang Tan/AP
The temperature is way up in London with the decision of the government of Ecuador to grant WikiLeaks founder Julian Assange political asylum. Some have suggested that Britain could use its Diplomatic and Consular Premises Act of 1987 to revoke the diplomatic status of the Ecuadorian Embassy in London to enable British police to enter the premises and arrest Mr. Assange.
What would this mean to diplomatic premises around the world? What would be the best strategy for London to follow in order to put Assange back in police custody? Now is the time to sit back a little and explore some options and their implications.
Under international law, Britain has a clear legal obligation to observe and respect the immunity and inviolability of foreign diplomatic missions in Britain. Article 22 of the Vienna Convention of Diplomatic Relations (1961) states: "The premises of the (diplomatic) mission shall be inviolable. The agents of the receiving State may not enter them, except with the consent of the head of the mission." Also under international law, a state cannot use its municipal or national law as a justification for a violation of international law.
Therefore, Britain cannot use its Diplomatic and Consular Premises Act to justify a violation of international law.
The original intention of the 1987 act was to avoid the use of force by diplomats on British soil. This act was passed in response to the April 1984 shooting, from the Libyan diplomatic mission in London, of Yvonne Fletcher, a British police officer, as well as the alleged attempt by foreign diplomats in July 1984 to abduct Umaru Dikko from a London street. The 1987 act also clearly states that action taken under it must be "permissible under international law."
---