How the GOP convention could help – and harm – Mitt Romney
Though news of hurricane Isaac hangs like a dark cloud over the delayed Republican National Convention, Mitt Romney still stands to benefit from the event in a couple key ways.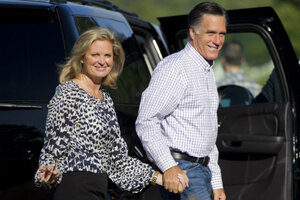 Evan Vucci/AP
Not since the Ford-Reagan contest for the 1976 Republican nomination has a party convention started with any doubt about its outcome. Conventions have evolved from decisionmaking bodies to television pageants. Nevertheless, they deserve attention.
In the case of the Republican National Convention, which gets into full swing today after Monday's events were delayed by what is now hurricane Isaac, Mitt Romney stands to benefit in a couple of ways.
On the last night – now Thursday night, his acceptance speech in Tampa, Fla., will enable him to speak at length to a large national audience. Until now, he hasn't had that chance. If average voters have made his acquaintance at all, it's usually been through eight-second sound bites. Although anyone can watch his speeches on the Internet or C-SPAN, few actually do so.
He did have 20 debates with other GOP candidates, but these didn't let him show his mettle as the potential leader of the free world. The format kept him from talking for more than a minute at a time; and even then, he was often trading "gotcha" lines with Rick Santorum or Newt Gingrich. By national television standards, the audiences were modest. The highest-rated debate got 7.6 million viewers.
A lot more people watch acceptance speeches: Four years ago, more than 38 million tuned in for each speech by Barack Obama and John McCain. From a campaign perspective, such a setting is ideal. For the better part of an hour, there are no rivals or reporters in the way.
Of course, Mr. Romney may have to share primetime coverage this week with hurricane Isaac. But even if a worst-case scenario shifts the focus of Romney's spotlight moment, a shorter speech, appropriately sensitive to Isaac's hit on New Orleans could still help Romney's public perception.
---