Can Paul Ryan educate voters about Medicare reform?
Paul Ryan and his Republican supporters see the presidential election as a chance to educate voters about Medicare reform. Some claim that campaigns are not for educating, but for winning. That's only partially true. Campaigns still have great teaching value.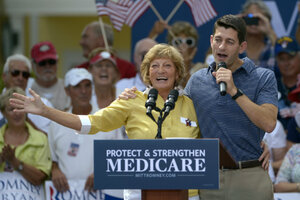 Phelan M. Ebenhack/AP
Mitt Romney's choice of Rep. Paul Ryan of Wisconsin as his running mate could be a lesson on the educational value of campaigns. Mr. Ryan, the Republican chairman of the House Budget Committee, has taken detailed positions on issues such as Medicare and the national debt. He and his supporters see the race as a chance to educate the public about these subjects.
Howard Dean, former chair of the Democratic National Committee, is not so sure. "I always have told people campaigns are not for educating," he said recently on ABC's "This Week" program. "People who use campaigns as a means of educating lose the campaign," he explained. "Now, they may go on to win a bigger race later on, but campaigns are not made for educating. And Ryan has to educate the country, and I don't think that's possible."
In two narrow ways, Mr. Dean is right.
First, the main goal of a campaign is not to educate but to win. And winning doesn't always mean educating. Candidates can win by mobilizing certain voters or by stirring ugly passions. Some win by lying, which is the opposite of educating.
---