Time to shift out of crisis mode, Europe
Tomorrow, Dutch elections and the German Constitutional Court's decision on the eurozone bailout fund have the potential to shake up the plan for Europe's debt crisis – again. Europe must shift away from piecemeal, stopgap measures and set the framework for a true banking union.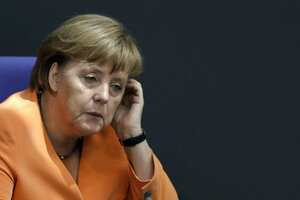 Fabrizio Bensch/Reuters
Europe is in for a hot fall.
On Wednesday, the Netherlands is expected to elect a new government, likely to be more critical of the European approach to the continent's sovereign-debt crisis. Also on Wednesday, the German Constitutional Court is set to decide on the constitutionality of the European Stability Mechanism – the eurozone's new permanent bailout fund and fiscal compact. And in October, the so-called troika of EU officials – the European Central Bank, European Commission, and the International Monetary Fund – will assess the progress made in Greece and decide on the next tranche of support funds.
All of this will then culminate in a European Union summit in the middle of October that could prove decisive in addressing Europe's crisis.
Separately, these events are unlikely to derail the euro-crisis resolution plan centered on incremental steps toward further integration. A new Dutch government, like the new French government before it, is not likely to instantly alter the European course. Most observers also believe that the highest German court will approve the permanent European Safety Mechanism, if potentially with new conditions. And while the EU troika could deny Greece further funding, this seems improbable.
---