Could Myanmar (Burma) have Southeast Asia's first 'green president'?
President Thein Sein still has a long way to go in assuring citizens, investors, and international donors that the country is on the right track, but with the right development assistance, Myanmar has the chance to succeed in sustainable development where many of its neighbors have failed.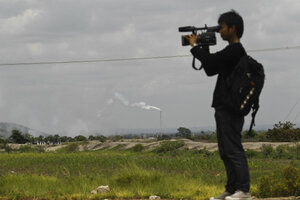 Soe Zeya Tun/Reuters
We are used to politicians and world leaders describing their intentions to put environmental concerns on their policy agendas. Sadly, we're equally used to seeing them not deliver. Yet one world leader – Thein Sein, president of Myanmar (Burma) – is currently delivering on an environmental agenda almost unnoticed. Next week he arrives in New York to address the United Nations General Assembly.
In March 2011, when Mr. Thein Sein made his inaugural speech as president, few inside or outside of the country gave much credence to what he had to say. Observers were skeptical, especially in light of his past as a general in Myanmar's military junta that ruled the country with an iron first for decades. Like all politicians, he promised a lot and, understandably, focused on issues such as ethnic reconciliation, economic reform, human rights, and fighting corruption. One pledge, however, was especially interesting to those of us who have long worked to support the environmental sector in Myanmar.
"We will lay down a new policy in which we will work for economic development in parallel with environmental conservation," declared Thein Sein. Myanmar, he promised, would "pay serious attention to conservation of forests and woodlands and take measures in various sectors to reduce air and water pollution, control dumping of industrial waste and conserve wildlife."
---