How to create jobs in Africa
Despite recent economic success, Africa needs a free-market makeover to create jobs for its high youth population. Zambia embodies the challenge – and opportunity – to create jobs by making it easier for businesses to operate and grow.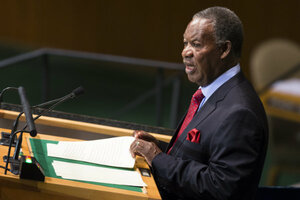 John Minchillo/AP
Hamilton, N.Y. and Livingstone, Zambia
Over the last decade, sub-Saharan Africa has enjoyed its best economic growth since the 1960s, when independence from colonial rule swept the continent. But even this impressive growth rate – 5.4 percent between 2000 and 2010, double the average for the 1970s and 1980s – is not enough to absorb the enormous bulge of unemployed youth. Despite its recent success, the continent needs a free-market makeover.
Zambia epitomizes the challenge – and the opportunity.
When this central-African nation gained independence in October 1964, Zambia had 300,000 full-time jobs for a total population of 3 million. Today, it has fewer than 500,000 jobs, of which nearly half are in the public sector, for more than 13 million people. Region-wide, sub-Saharan Africa will provide one-quarter of the world's youth by 2025. But nearly two-thirds of this African cohort is already unemployed.
Zambia's history, like many African countries, is of repeated failure to diversify from its primary export, copper, when times are good, and then scurrying about when the commodity's price falls.
The country's vice president, Guy Scott, is refreshingly frank and thoughtful about Zambia's challenges. He believes that the high costs of borrowing and an overvalued exchange rate mostly explain why businesses battle so hard to grow. Unless these conditions change, he realizes that Zambia will not create the jobs necessary for its burgeoning youth population.
But the high costs of borrowing and slow rate of job creation are symptoms of wider malaise. The expense of doing business, endemic corruption, and the uncertainty of the political environment, says Zambian opposition leader Hakainde Hichilema, known widely as "HH," are closely related and far more constraining.
He has a point. Take the Chirundu border crossing with Zambia's southern neighbor, Zimbabwe. Donor money recently refurbished the crossing into what is advertised as a model regional "one-stop-border-shop."
---