It's almost Nov. 6. Do you know what books Obama and Romney have been reading?
John F. Kennedy, Harry S. Truman, Theodore Roosevelt, Thomas Jefferson – many of America's presidents were avid readers, and that informed their decisions. It gave them critical perspective. Americans should be curious about the reading habits of President Obama and Mitt Romney.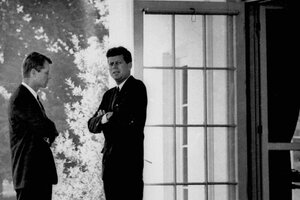 AP/stf/file
This month's observance of the 50th anniversary of the Cuban missile crisis offers many lessons for Americans, including the value of having a president who's an avid reader.
John F. Kennedy, locked in a titanic struggle with Soviet Premier Nikita Khrushchev over the USSR's plan to place nuclear missiles in Cuba, had read historian Barbara Tuchman's "The Guns of August" a few months before the crisis began. As Meredith Hindley points out in a recent article on Tuchman in Humanities magazine, Kennedy took to heart Tuchman's cautionary tale of the political miscalculations that escalated into World War I.
"I am not going to follow a course which will allow anyone to write a comparable book about this time: The Missiles of October," Kennedy said.
That's how the insights gleaned from a president's reading quite possibly helped save the world from nuclear oblivion. With that in mind, voters this year should probably pay more attention to what the contenders for the White House are reading – and to what degree they read at all.
Kennedy was a voracious reader whose love of books helped him understand how the world worked, according to JFK biographer and confidant Arthur M. Schlesinger Jr. "He read mostly history and biography, American and English," recalled Schlesinger. He noted that Kennedy's reading helped cultivate "a moderate and dispassionate mind, committed to the arts of government, persuaded of the inevitability of change but distrustful of comprehensive plans and grandiose abstractions, skeptical of excess but admiring of purpose, determined above all to be effective."
---