Obama's economy is driving well, considering the hand brake is on
Smart choices by President Obama and Congress have saved the economy from another recession and put it on the path to recovery. Policymakers can continue to help the economy by removing the obstacles to faster growth, such as helping struggling states retain teachers.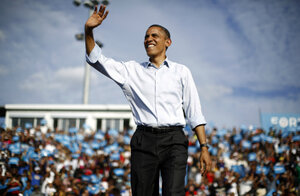 Jason Reed/Reuters
The fact that the US economy is in recovery, even modestly, is something of a miracle given the number of factors working against it. This is absolutely unique in American economic history: a recovery without the housing market expanding substantially; a recovery with state and local government employment shrinking for three years in a row; and a recovery with households owing, on average, well over 100 percent of their after-tax income in debt.
Yet even with all three of these factors dogging us, we have avoided slipping back into recession.
That's not all. Exports, which are a key element contributing to strong growth and have offered a boost to many recoveries over the years, continue battling the headwinds of the European crises, slowing growth in China and India, and a strengthening dollar – which makes US exports more expensive in world markets. Moreover, oil prices swung widely during the past three years, the result of dramatic international events such as the Arab Spring.
The remarkable thing about the current recovery is not how slow it is, but that it exists at all. There was a good chance that the economy would shrink in this environment, but it didn't. The US economy in the second quarter of this year was $847.5 billion (in 2005 dollars) larger than in June 2009 on an annualized basis. That's the equivalent of an average annualized growth rate of 2.2 percent over inflation during those three years. That is not stellar, but it is a far cry from a recession.
---