Exit polls show President Obama should go on listening tour, not take victory lap
Mitt Romney will be chastised for his missteps. But he isn't the only one who was tone deaf. Voters are ambivalent about President Obama and his record. He needs to listen to the echoes from the exit polls, broaden his approach, and seek a new direction for his second term.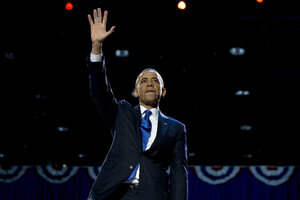 Carolyn Kaster/AP
Plenty of ink will be spilled chastising Republicans and the Mitt Romney campaign for their many missteps and missed opportunities. But they aren't the only ones who were tone deaf in Election 2012.
After the costliest campaign in American history, spending $1 billion to squeak out a win against a candidate more than half of the voters disliked, President Obama becomes the first president since 1832 to win a second term with a smaller percentage of votes than in his initial victory.
Instead of running victory laps, Mr. Obama should go on a listening tour.
Exit polls confirm what the small margin of victory suggests: Voters are ambivalent about the president and his record. Tuesday's vote was not a resounding affirmation of the past four years; it was a stark reminder that the nation is deeply divided. The president needs to listen to the echoes from the exit polls, broaden his approach, and seek a new direction for his second term.
A majority of voters say that things in this country today are "seriously off on the wrong track." A super-majority rate the state of the economy as not so good or poor.
Voters split evenly – 49 percent to 49 percent – in their feelings of relative satisfaction with the Obama administration. At the extremes, only 25 percent of voters are enthusiastic about the administration, and 19 percent are angry.
Even more telling, 46 percent of voters have an unfavorable view of the president. In a typical election, an unfavorable rating above 40 percent is seen as a death knell for incumbents. Obama's saving grace was that voters disliked Mr. Romney even more.
Obama's signature legislative achievement of his first term, health-care reform, drew very mixed reviews. Forty-nine percent of voters favor repealing all or most of it, 44 percent say to leave it as it is or expand it, and many of the controversial aspects of the legislation have yet to go into effect.
When asked which candidate would best handle three particular issues, Romney edged out Obama on the economy and the federal budget deficit, and a slim majority said Obama would better handle Medicare.
---