Threat of chemical warfare in Syria means it's time for US, NATO no-fly zone
The threat that Bashar al-Assad may use chemical weapons against opposition forces in Syria means it is time for President Obama and America's NATO allies to intervene and establish a no-fly zone. That's a far better option than directly arming the divided rebel forces.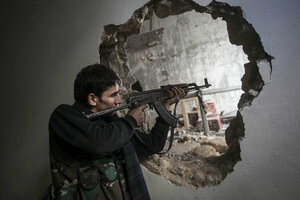 Narciso Contreras/AP
President Obama's warning to Syria's President Bashar al-Assad not to use chemical weapons in the country's ongoing civil war is just one more signal that in this ever-escalating crisis, it's time for the international community to intervene.
Whatever course of action may be next for the US and NATO, arming divided rebel groups should not be considered. While the opposition Free Syrian Army (FSA) and Syrian National Council (SNC) work out their internal politics, the US and NATO should create and enforce a no-fly zone aimed to provide support to civilians on the ground.
The threat of chemical weapons worsens the situation and strengthens the case for a no-fly zone. Mr. Assad's regime has demonstrated its willingness to engage civilians on a routine basis; therefore, it is paramount that Western powers adopt an appropriate humanitarian response. A no-fly zone will provide protection to Syrian civilians from the regime's warplanes and artillery barrage and help remove the threat of chemical weapons being used against the Syrian populace in an aerial attack.
Providing weapons to a disorganized FSA and marginalized SNC would be disastrous. Although weapon caches may be scarce, which has led many FSA units to manufacture homespun grenades and rockets, divisions among rebel fighters are simply too great to arm them. History shows that doing so could prove catastrophic in a post-Assad Syria.
---