Israel's 'self-defense' argument against Hamas holds no water
Israel's ceasefire with Hamas is holding, but unless Israel completely lifts its blockade and includes Hamas in two-state negotiations, renewed rocket attacks from Gaza are likely. Should that happen, Israel would not be justified in arguing self-defense.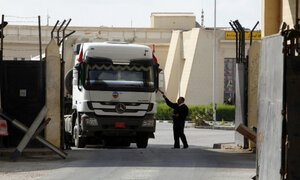 Ibraheem Abu/Reuters
As part of a November ceasefire agreement with Hamas, Israel has partially lifted its blockade of the Gaza Strip, allowing private construction materials into the region pummeled by Israeli airstrikes. It's a single, forward step that ends a five-year ban on such materials. But without progress in settling the overall conflict, Palestinian rocket or suicide attacks and heavy Israeli responses will almost surely resume. [An earlier version of this paragraph was incorrect. See editor's note at the bottom of this article.]
If the past is any guide, even those who would criticize such Israeli attacks as "disproportionate" would hasten to add: "Of course, Israel has the right to defend itself."
Israel, however, is not defending its homeland against unprovoked attack. Rather it is "defending" a nonexistent right to continue its occupation (direct or indirect) and repression of the Palestinians – and that is what provokes Palestinian attacks from Gaza.
The eight days of Israeli bombing and air strikes on Gaza last November were essentially a continuation – though on a much smaller scale – of "Operation Cast Lead," the three-week Israeli attacks that began in late December 2008. Then as now, Israel and its supporters justified Cast Lead as a legitimate use of force in self-defense to end Hamas's terrorist attacks on Israel's civilian population.
---