Talk to Hamas? Talk to Taliban? Thank the Arab Spring for those possibilities.
The Arab Spring's message of freedom through nonviolence has isolated Iran and Syria, helped elevate moderate Islamists, and pushed radical groups to weigh alternatives.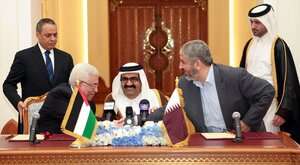 Osama Faisal/AP Photo
The Arab Spring's main message – that young people seek self-governance and dignity through peaceful means – continues to bestow surprising gifts in the region. One is that radical Islamists are being forced to radically rethink their approach.
The dawn of democracy in Egypt, for example, has pushed the Muslim Brotherhood to moderate its hard-line ways to the point that Anne Patterson, the US ambassador to Cairo, was able to meet with the group last month after years of Washington keeping an arm's length.
The Taliban of Afghanistan, meanwhile, has set up an office in the tiny Gulf kingdom of Qatar and reportedly met with an American representative in recent days to pursue peace talks.
And Hamas, the Islamic group that has ruled Palestinian territory in the Gaza Strip since 2006, agreed this week to reconcile with its rival on the West Bank, Fatah. The two firmed up plans to pursue a unified government leading to elections.
---