Humanitarian acts as antidotes to war
Disasters can cause even adversarial nations to enjoy heart-to-heart moments of compassion. Russia delivers emergency fuel to an Alaskan town; the US Navy rescued Iranian fishermen.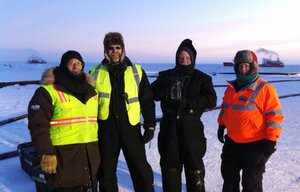 AP Photo/Vitus Marine
Russia and the United States are locked in a struggle over control of the Arctic Sea but you wouldn't have guessed that on Monday. A Russian tanker began to pump badly needed winter fuel to the Alaskan city of Nome after making an emergency trip at the US's request. The 370-foot ship the Renda traveled 5,000 miles and through Bering Sea ice to reach the isolated city.
"Our main goal is not so much to make profit but to rescue people," said the tanker's owner, Fazil Aliyev, whose company is based in Vladivostok.
The mercy mission showed unusual cooperation between nations. And it is one more example of how humanitarian gestures can sometimes break down barriers between nations that aren't always on the best of terms.
Another example is the recent rescue of 13 stranded Iranian fishermen in the Persian Gulf by the US Navy, even as tensions have risen over Iran's nuclear program.
The Iranian foreign ministry called the rescue a "positive" act. "We think all nations should display such behavior," said a spokesman. The very destroyer that picked up the men is part of a fleet of US warships that Iran insists must leave the Strait of Hormuz.
---