Attacks in Mali, Libya, Algeria show why Africa still needs US support
Attacks by Islamist insurgents on US outposts in Benghazi, Libya, at a gas plant in Algeria, and in Mali expose several reasons for persistent security weakness across Africa. For one thing, many countries are too poor to supply the funds and soldiers for regional peace efforts.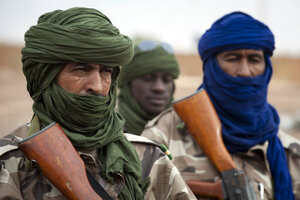 Ghislain Mariette/ECPAD/AP
As his country's troops began pushing back an Islamist insurgency in Mali earlier this month, French Foreign Minister Laurent Fabius emphasized that "our African friends need to take the lead" in defending that North African country and the region.
Mr. Fabius was addressing a summit of African military leaders in West Africa. But his plea missed an obvious point: Malian officials would not have requested French intervention if they or their regional partners had the capacity to roll back the insurgents themselves.
Two decades have passed since the end of apartheid in South Africa – the final dividing line with the colonial era. In that time, the continent's leaders have steadily built new regional and Africa-wide economic and security structures to spur development and break the seemingly intractable presence of war.
The thinking is that collective strength can compensate for individual state weakness. This effort may well be helping economically. Sub-Saharan Africa has posted some of the world's highest sustained economic growth rates over the past decade. But joint African military deployments have yielded only fleeting success in the continent's worst hot spots.
---