British Prime Minister David Cameron's audacious vision for Europe
British Prime Minister David Cameron's vision for the Europe Union is blatantly self-serving. His promise to let the Brits vote on EU membership is designed to ensure his own reelection. But his plan for a leaner and less intrusive union may also win some friends on the continent.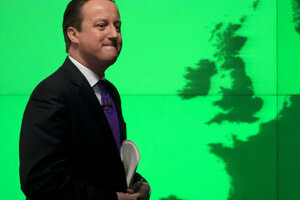 Matt Dunham/AP
British Prime Minister David Cameron has certainly thrown a wrench into the workings of the European Union – laying out an audacious plan to renegotiate British membership in the EU and then have British voters decide whether to stay in or leave this fixture of post-war Europe.
It's a stunningly self-serving, political move on Mr. Cameron's part. It's also fraught with serious risk, both for himself and the 27-member union. His plan has an upside, too. It puts pressure on the member states to improve their competitiveness, and it challenges the EU bureaucratic blob to turn into a more workable and responsive union.
The British prime minister laid out his vision in a speech last week, and a good part of it could be read as an attempt to control the rebellious Euroskeptic wing of his Conservative Party by giving them some of the red meat that they crave. Those critics, a growing segment of the party, disdain the regulatory reach of EU headquarters in Brussels and they disdain the reach of the euro currency that Britain is not using. Some would love for Britain to leave the EU.
---