This Valentine's Day, a call to avoid the pitfalls of credit-score dating
There's a new dating trend of disclosing your credit score – and it can be a real deal-breaker for prospective couples. I'm glad credit-score dating didn't exist 18 years ago. Had I not teamed up with my wife, my credit score might have remained higher, but I would have ended up much poorer.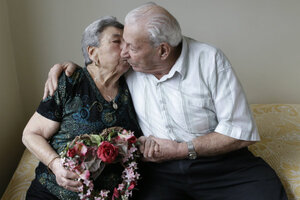 Kathy Willens/AP
I'm delighted that I'm not currently dating. And not just because I have a wonderful wife. I'm delighted because I don't think I could handle dating today. Besides having to work on my abs and whiten my teeth, I'd also have to start monitoring my credit score.
Turns out that there's a new trend in dating. All the things that eHarmony claims to measure and match – personality traits, background, spiritual concerns, career choices – are all so old-school. Today, one of the more titillating questions you can ask a first date is, "What's your credit score?"
Based on the dating trend highlighted by a recent article in The New York Times, if the answer is below 650, chances are this could also be your last date.
Credit scores – increasingly used as a factor in qualifying job candidates and determining insurance rates – are apparently now quite a turn-on (or turn-off) . There are actual dating sites called DateMyCreditScore.com and CreditScoreDating.com. The latter declares on its homepage: "Good credit is sexy."
In honor of Valentine's Day, I thought I'd just say, "Really?"
What will we be asking for next? A DNA sequence?
My last first-date was in 1995. I met my future-wife Rique for coffee. I would say the only subject less likely to come up than our credit scores might have been the prevalence of borer beetles in birch trees. Granted, we aren't really math people. Rique is a teacher, and I'm a writer.
---