'Lincoln,' Texas, and the Oscars: Why getting history right matters
Most filmgoers will see the 'Lincoln' film, nominated for 12 Academy Awards, as biographical. Public opinion is shaped by portrayals like this, so its factual errors can't be discounted. I've seen first-hand the problems with a popular historical narrative that doesn't get the story right.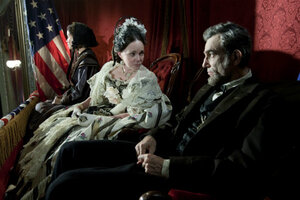 David James/DreamWorks II Distribution Co. and Twentieth Century Fox Film Corporation/AP
One of my favorite films of 2012 was "Lincoln" and this Sunday, we'll see if Stephen Spielberg's epic film biography of our sixteenth president will win any of the 12 Academy Awards for which it's been nominated.
The film follows President Abraham Lincoln's seemingly impossible struggle to abolish slavery and is powerful in part thanks to actor Daniel Day-Lewis's performance in recreating Lincoln's most controversial speeches during his last months (he's nominated for the Best Actor Oscar).
Yet not everyone is content with the film. Rep. Joe Courtney (D) of Connecticut recently called attention to a historical inaccuracy in the film, which shows two of three lawmakers from his state voting against the Thirteenth Amendment that prohibits slavery. In reality, all four representatives from Connecticut voted in favor of the amendment.
As reported by The Wall Street Journal, the film's screenwriter, Tony Kushner, acknowledged the inaccuracies and explained the alterations were made "to clarify to the audience the historical reality that the Thirteenth Amendment passed by a very narrow margin that wasn't determined until the end of the vote. The closeness of that vote and the means by which it came about was the story we wanted to tell."
---