How Moore, Okla., can cut through FEMA's red tape and build safer schools
On March 1, 2007, an EF4 tornado killed eight students at Enterprise High School in Alabama, where I was principal at the time. I would urge Moore, Okla., officials to assess how they handled Monday's tornado, yes, but also look forward to how they can rebuild safer schools.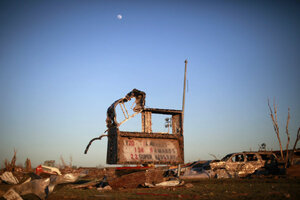 Rick Wilking/Reuters
On March 1, 2007, an EF4 tornado ripped through the southern Alabama town of Enterprise. In its wake, hundreds of homes and businesses were destroyed. But the single most tragic event was the destruction of Enterprise High School, where I was principal at the time, and the deaths of eight students.
The question that naturally arose after the tragedy is one that residents of tornado-ravaged Moore, Okla., are likely asking themselves now as well: What could have been done differently that might have averted the disaster – especially in schools full of children? As community members begin to process the destruction and loss from the EF5 tornado that swept through Moore Monday afternoon, I would urge them to reflect, yes, but also to look forward to how they can rebuild better than before.
Constructing reinforced rooms and better safe areas in schools – made possible by funding support from the Federal Emergency Management Agency – was a key component in building a new high school in Enterprise. Speaking from experience, I can say that cutting through FEMA's miles of red tape is worth the effort to ensure our students are even better protected from future storms. Even without FEMA funding, building safe rooms should be a priority for Moore. But there's also no substitute for well-rehearsed tornado drills.
In Enterprise six years ago, the day began as do many spring days in southeast Alabama ­– a chance of thunderstorms with some possibly severe. As a high school principal, weather watching had become second nature. Even though I had never experienced an actual tornado, I had been under watches and warnings more times than I dare to guess.
---