What tornado-hit cities like Moore have learned
The tornado that hit the Oklahoma city of Moore – its fourth in 15 years – brought destruction but also brought out well-learned examples of resiliency, hope, and calm.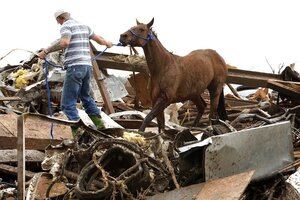 Steve Sisney/The Oklahoman/AP Photo
Since 1998, the Oklahoma city of Moore has experienced four tornadoes. Monday's storm, which packed winds of as much as 200 miles per hour, perhaps brought the worst devastation, leaving dozens dead, including schoolchildren, and a need for healing from grief and loss.
But the giant twister also brought out the best in a community that has learned, perhaps more than others, that it needs far more than warning systems and storm shelters.
New technology and hardened structures certainly help those caught in a tornado's path. But as disaster experts now know, people in natural disasters need an inner hardiness that keeps them emotionally calm and mentally alert. One unfazed Moore resident, Renee Lee, told reporters, "You just do what you gotta do. It's part of living here."
Teachers at Moore's two elementary schools certainly had to keep themselves calm as they corralled kids into safe areas. The city's mayor, Glenn Lewis, huddled with others in the vault of his jewelry shop. After having experienced a tornado that struck Moore in 1999 when he was also mayor, Mr. Lewis was well prepared to take action in the wake of this latest one. "We've already started printing the street signs," he said soon after the storm destroyed many street markers.
Signals of hope and resilience quickly emerged in the 20-mile swath of wreckage as Moore residents responded to those in need or helped those mourn for lost loved ones. Others who know Moore well tried to help. "Rise again Moore Oklahoma. Godspeed," tweeted country singer Toby Keith, a native of Moore. Rep. Tom Cole (R), whose congressional district includes Moore, cited prayer as the top item on his list of what the city needs.
---