Time for food aid reform that helps hungry countries – and the US
Under the Food for Peace program, aid organizations working overseas must buy food directly from the US instead of using local sources. If politicians want to cut government costs and avoid aid dependency abroad, they'll support President Obama's proposed reforms to US food aid.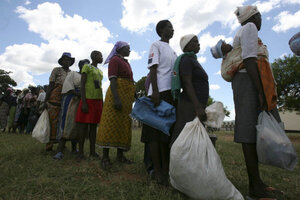 Philimon Bulawayo/Reuters
"The short rains have failed, the long rains failed, our livestock has died. If this next short rain fails, then we fear we will die," he told me. It was the 2011 drought in eastern Africa. I was interviewing the leader of a Kenyan town that borders Ethiopia for an emergency-needs assessment that I was leading for an aid organization.
His situation is not unlike that of many others facing severe food shortages. But for many of them, the disturbing irony of their desperation is that crop surpluses may exist just a half-day's drive away from them. A simple mobile-phone transaction could transfer money to vendors who could drive that food to their community. Alternatively, an aid organization could transfer money or a food voucher directly to them.
While funding from European donors makes such approaches possible, US food aid policy under the 60-year-old Food for Peace program constrains the ability of US-funded aid groups to do any of this: Aid organizations funded by the United States are typically required to buy food directly from the US.
In fact, current food aid policy actually harms the people whom the US is trying to help. President Obama's proposed fiscal year 2014 budget will fix this. The United States Agency for International Development (USAID) estimates that the proposed changes will lead to significant efficiencies and cost savings.
Unfortunately, Mr. Obama's proposed changes face narrow but fierce opposition from shipping and agriculture businesses and lawmakers in Congress from big farming states. But if politicians are serious about the government cutting costs and avoiding cultivating aid dependency abroad, they'll support Obama's proposed reforms to US food aid.
---