In Africa, the best 'charity' is aid for business
The traditional approach to solving Africa's problems through aid has created a cycle of dependency. A better approach is to use donor subsidies to fund private, for-profit ventures. Those ventures create systemic and sustainable change in the community.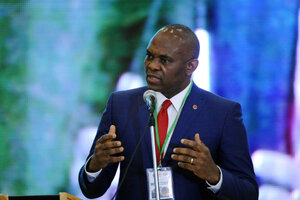 Afolabi Sotunde/Reuters
The traditional approach to solving Africa's problems has been to rely on charity and aid – free money, more or less. And while charity has done much good for millions across the continent in terms of food security, health care, emergency response, and education, its chief weakness is that its results have not proven sustainable.
Africa finds itself continually going back to donors simply to maintain the status quo. What the continent really needs is to create the environment – political, economic, and social – to achieve self-sufficiency.

Experience teaches that connecting the private sector to economic development is the most effective way to build wealth and resources in local economies, and ensure sustainable development. Philanthropists, nonprofits, and nongovernmental organizations can help achieve this self-sufficiency if they harness their resources to create change in the private sector.
Consider my own experience as a founder of Standard Trust Bank (STB), which later became United Bank for Africa. We started with a defunct bank and a $5 million investment in 1997 – partially funded with "development" capital.
---