To stop sexual assault against women in the US military, add more women
The US military must change the culture that leads to sexual assault by genuinely accepting women as fully capable and by greatly increasing the number of women. Change must start at the top, beginning with more admissions of women in the service academies.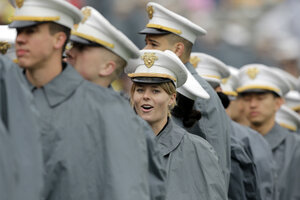 Mike Groll/AP
Carlisle, Penn. and Charlottesville, Va.
Last week, the US military services announced their plans to integrate women in combat specialties. Although it may sound counterintuitive, the full integration of women in the armed forces – in all roles, at all levels, and in far greater numbers – will do more to stop sexual assault against them than any other measure.
It will help more, for instance, than creating a new cadre of lawyers (called "special victims counsels") to assist service members who say they are victims of sexual assault – a program now underway in the Air Force. It will help more than reforming the prosecution of sexual misconduct cases so that victims do not fear reprisal from commanders – an issue the Senate Armed Services Committee has grappled with.
Both of these efforts are worthwhile, but they address the effects of the scourge. They do not get to its cause, which is the hyper-masculine, male-dominant culture of the military. To do that, the military must create a far more welcoming atmosphere for women, who make up only 15 percent of the armed services. It must welcome and value them as equal partners, and it must greatly increase their numbers.
As Joint Chiefs of Staff Chairman Gen. Martin Dempsey commented in January, when the Defense Department lifted the ban on women in combat, having "separate classes" of male "warriors" and everyone else creates an environment ripe for sexual assault and harassment. The more that the Pentagon "can treat people equally, the more likely they are to treat each other equally."
---