Australia's example in healing the sexually abused
A special panel begins work taking testimony from Australians sexually abused as children in institutions, such as churches and police stations. Allowing victims to speak will be a first step toward personal healing and national reform.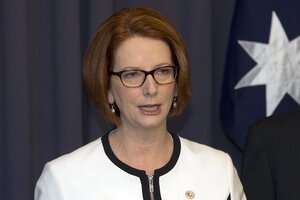 AP Photo
On Wednesday, Australia set an example for the world by opening an official inquiry that will allow people who were sexually abused as children in institutions to finally tell their stories.
At least 5,000 Australians are expected to be heard by the commission, many of them able to recount their experiences in private before the six-member panel. They will shed light on a half century of abuse in orphanages, churches, schools, detention centers, and child-care centers, and groups such as the military, Scouts, and organized sports.
Up until now, many were too ashamed to speak out. Or their stories were neglected by authorities. As children, they suffered for years in silence.
It is noteworthy that a woman prime minister, Julia Gillard, set up this panel.
"I want this to be a moment of healing, for us to say to them as a nation 'we hear you, you're valued, and you're believed' because for too long, so many of these survivors have just run into closed doors and closed minds," Ms. Gillard told ABC NewsRadio.
The commission's purpose is not to prosecute or award compensation. Rather it is, as the chairman, Justice Peter McClellan, stated, "to bear witness, on behalf of the nation, to the abuse and consequential trauma inflicted on many people who have suffered sexual abuse as children."
The panel will also make recommendations for new laws and practices to prevent further sex abuse in both private and public institutions.
Empathy and truth-telling can be powerful healers, as many doctors now recognize. In cases of sexual abuse, it can help ease a person's suffering by shining the truth onto an evil act and dissipating its emotional hold. When an entire nation takes responsibility for having so many institutions that allowed the abuse to take place – and then covered it up – the empathy is writ large.
---