Egypt's President Morsi and opposition must talk – and fix the constitution
Protesters are demanding President Morsi's resignation and have burned the headquarters of his backers, the Muslim Brotherhood. The way out of this crisis is for Morsi and opposition leaders to negotiate a path forward together. That must include a constitution that is representative of Egypt.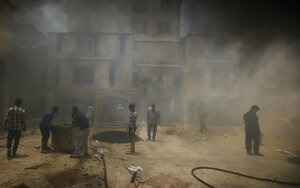 Amr Abdallah Dalsh/Reuters
The Middle East's largest and most pivotal state is careening toward a grave crisis as hundreds of thousands of demonstrators in Egypt call for embattled Islamist President Mohamed Morsi to step down. On Monday, protesters looted and burned the headquarters of the Muslim Brotherhood, which backs Mr. Morsi. This dangerous new confrontation threatens not only to derail the country's uncertain democratic transition, but also to unleash a wave of economic and social chaos.
Protesters want President Morsi, who was elected last year, and his Muslim Brotherhood regime deposed via early presidential elections. The immediate need, though, is for Morsi and opposition leaders to negotiate a way forward together. That will have to involve agreeing to fix Egypt's disastrous constitutional order – which has fueled deep distrust in Morsi. Better institutions won't magically resolve the political impasse, but the impasse cannot possibly be resolved without better institutions – a democratically elected parliament, for instance, and a much less powerful presidency.
The government's critics have legitimate, serious grievances: Morsi and his allies in the Brotherhood's political wing, the Freedom and Justice Party (FJP), have seemed much more interested in pressing a narrow and divisive Islamist agenda than in actually running a country or pursuing desperately needed economic and political reforms. Their sheer incompetence at keeping Egypt functioning is quickly turning even the Brotherhood's electoral supporters against them.
Much of the unfolding disaster, however, precedes Morsi. It can be traced back to undemocratic decisions about government that were made shortly after the January 2011 uprising that forced dictator Hosni Mubarak from power.
Those decisions were made by the interim governing body, the Supreme Council of the Armed Forces (SCAF). Instead of taking the time to craft a durable constitutional order through a consensual process, the military leadership gave this responsibility to a parliament that had yet to be formed.
---