Muslims should welcome a new, modern perspective on prophet's sayings
The end of Ramadan this week marks a good time for Muslims to consider Turkey's new, modern version of the Hadith – which records the sayings and customs of the prophet Muhammad. The multi-volume set moves away from literal interpretation and embraces the inspired meaning.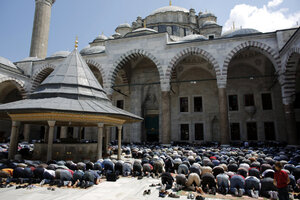 Murad Sezer/Reuters
As the Islamic fasting period of Ramadan ends this week, Muslims might be curious about a modern interpretation of the Hadith – the sayings and customs of the prophet Muhammad – which is now being published in Turkey. Certainly scholars will be.
Change is certain to come to the Islamic world, not just to the streets of Cairo or Istanbul but deep within Islam's religious tradition as well. The Turkish Directorate of Religious Affairs, called the Diyanet, recognizes this with its seven-volume revision of the Hadith – which is the source of Sharia law and second only to the Quran.
Thousands of the prophet's sayings and traditions were circulated and eventually collected in the centuries after his death in 632. The sheer size of Hadith collections and their archaic 7th century Arabian context have made the texts too intractable for many Muslims today. This is the challenge which the six-year Turkish Hadith project, with its selections and interpretive essays, seeks to overcome.
The central issue surrounding the Hadith, as with other foundational religious works such as the Bible, is whether it should be read literally or in a historical context and for its inspired message. A literal reading, for instance, may seek to justify medieval practices like severing the hands of thieves or allowing underage marriage. An inspired interpretation would see them as historical practices absent the kind of rule of law that democracies like Turkey have today.
---