Anti-Muslim video – one more reason for independent scholarship on the Quran
Interest in the Quran has risen dramatically. Yet no independent association for Quranic study exists in the US – nothing like the Society of Biblical Literature, for instance. That will soon change, and as violent protests over an anti-Muslim video show, the need for scholarly insight is great.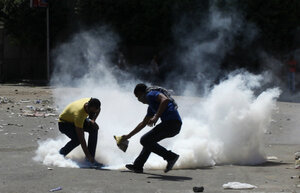 Asmaa Waguih/Reuters
Notre Dame, Ind., and Houston
In 1726, when the Ottoman Empire promulgated a fatwa – a legal declaration – permitting the printing of books, the Quran was excluded. Textbooks, novels, and military manuals soon began to be printed in the Middle East, but the Quran continued to be copied by hand. The reason was religious: Pious scholars argued that printing would be a sort of disrespect to the Quran, a text which – according to traditional Islamic teaching – is the very word of God brought down from heaven by the angel Gabriel.
Since that time, religious opinions have changed. Today the Quran is printed at an extraordinary rate. The King Fahd Complex for the Printing of the Holy Qur'an (the official Saudi Quranic printing press) produces over 10 million copies per year. And interest in the study of the Quran has risen dramatically: The number of institutes, conferences, and publications dedicated to the Quran in the Islamic world has increased, and new websites have multiplied.
Interest has also grown sharply in the West, including in the United States. In recent years, 21 new English translations have been published. Yet no independent academic association dedicated to Quranic studies exists in the US – nothing similar to, for instance, the Society of Biblical Literature, the American Historical Association, or the Modern Language Association.
Now, thanks to a grant from the Henry Luce Foundation, the Society of Biblical Literature is working to set up the International Qur'anic Studies Association – not to influence it, merely to provide an incubator for it.
There is a tremendous need for such a group, not only for scholars and specialists, but also for the general public. Good scholarship leads to understanding, and understanding leads to respect. In the world today respect between religious groups, and for religious groups, is sorely needed. That's abundantly clear in the latest wave of violence entangling the Muslim and Western worlds over an anti-Muslim video.
---