The urgency of addressing mental health for Syrian refugees
Horrific crimes against humanity are a daily reality in Syria. The international community must better ensure that skilled, appropriate mental health care reaches Syrians. One way is to increase contributions to the UN Voluntary Fund for Victims of Torture.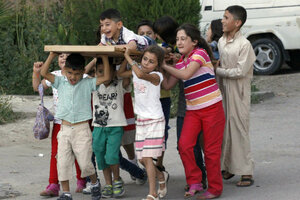 Nour Fourat/Reuters
When Secretary of State John Kerry visited a vast camp for Syrian refugees in Jordan last month, refugees implored him to take action to stop the killing in their homeland. Their desperate pleas made news around the world, and illustrated the intense mental anguish that has accompanied physical atrocities in Syria's civil war.
The secretary's visit to the Za'atri camp came the same week that UN officials deemed Syria the worst refugee crisis since the Rwandan genocide. And in June, a UN Commission issued a dire warning: "War crimes and crimes against humanity have become a daily reality in Syria where the harrowing accounts of victims have seared themselves on our conscience."
But amidst the collective horror and political debate, an important question looms: What are the psychosocial needs of those survivors whose "harrowing accounts" we read in the news and whose suffering we watch on YouTube? Who is caring for those refugees? Who is tending to their mental health and facilitating their recovery?
Millions of Syrian civilians – men, women and children – have been tortured, imprisoned, raped, and shot at while fleeing from the ever-escalating conflict. They've personally witnessed brutal treatment, including the massacre of entire families and the destruction of homes and neighborhoods. As the political and sectarian violence facing Syria becomes more pronounced, the need to address refugees' psychological distress becomes more urgent.
---