Why US must give military aid to Syria's rebels
The war in Syria is at a turning point. Backed by Russia, Iran, and Hezbollah militants, Bashar al-Assad has the upper hand. Ending the war requires backing him into a corner from which peace talks provide his only safe escape. US military aid for the rebels can help do that.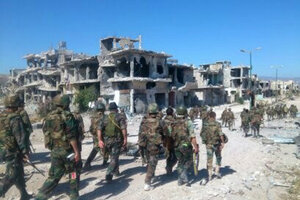 Syrian news agency SANA/AP
There are two ways the war in Syria could end: Either through outright victory or a negotiated transition.
Outright victory on the battlefield tends to produce more durable peace – think the American Civil War and World War II – but few modern wars end this way. And in Syria, a drubbing of either side may not produce a lasting silence. If the regime survives, it could face a fragmented low-level insurgency for years. If it falls, the rebellion's splintered factions may turn on each other.
A negotiated peace, meanwhile, requires two essential preconditions: military stalemate and inclusiveness at the peace table. Warring factions do not leave their bunkers for conference rooms as long as they think they have more to gain in the trenches. Talks that favor certain factions by dint of excluding others lack legitimacy.
The necessary preconditions for peace talks do not yet exist, and so the United States and the West must work to create them – through military intervention in this crisis.
A United Nations investigating commission said Tuesday it had found credible evidence in Syria of the use of both chemical and thermobaric weapons (the latter produces a much longer blast wave than a conventional explosion). The commission cited 17 apparent massacres of civilians between January and mid-May, and warned that "war crimes, crimes against humanity and gross human rights violations continue apace." It cited war crimes by both sides. The UN estimates that 80,000 people – mostly civilians – have perished in the conflict, which is now in its third year.
---