US must take substantial military action in Syria now
The United States has a moral and legal obligation to protect Syrian civilians from the murderous Assad regime and help end Syria's bloody civil war. Military action is supported by international law, historical precedent, and humanitarian mandates.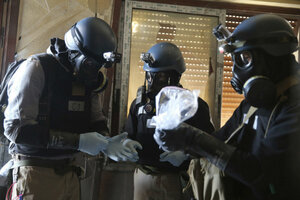 Mohamed Abdullah/Reuters
There is no more time to waste. The United States must take severe and sustained military action in Syria now. To wait any longer threatens the legal and moral prohibitions against mass murder that have been erected since the horrors of the Holocaust and blatantly ignores the tens of thousands of dead Syrians and the millions who have been uprooted.
As the US and its allies prepare their response to the latest mass killings in Syria, the debate has focused not on practical next steps but on abstruse policy questions, such as the debate over the legality of punishing the Assad regime for apparently using chemical weapons. Overthrowing the regime of Bashar al-Assad hasn't even been a topic for discussion lately.
The Obama administration apparently means to "deter and degrade" Syria's military capabilities. What this limited action means, of course, is that the Assad regime will hunker down, absorb the punishment, and start killing civilians again, all the while claiming to have faced down the world's strongest power – America. The message that would be sent is: You may murder 100,000 people with artillery and bullets with impunity but you may not cause the deaths of a few hundred with chemical weapons.
A limited US strike in retaliation for the use of chemical weapons without a larger plan to protect civilians from the murderous Assad regime and end the civil war in Syria is morally bankrupt, politically foolish, and, in the end, complicit with evil.
---