House Republicans would be foolish not to pass comprehensive immigration reform
The government shutdown and looming debt-ceiling debate shouldn't prevent House Republicans from tackling comprehensive immigration reform. A practical, common-ground solution could improve America's fiscal health and it's what the majority of voters are calling for.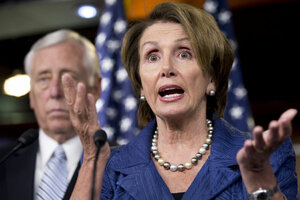 Manuel Balce Ceneta/AP
Opponents of immigration reform are once again speculating about the death of comprehensive immigration reform this year. And at first glance, the House of Representatives calendar is too full with other issues – chiefly now the budget battle and government shutdown, as well as the looming debt ceiling fight.
While Congress certainly has other important issues to consider this year, the notion that the House cannot advance immigration legislation because of lack of votes or lack of time is flawed. In fact, comprehensive immigration reform has been gaining momentum among Republicans who are listening to their constituents' demands. And tackling immigration reform with practical, common ground solutions has the potential to improve America's long- and short-term fiscal health as well.
On October 5th, supporters of comprehensive immigration reform will rally in more than 100 cities and the Capitol to demand speedy action. House Republicans would be wise to listen to what overwhelming majorities of US citizens – as well as small businesses, faith communities, and the technology and agricultural sectors – are clamoring for: comprehensive immigration reform in 2013.
House Democrats released their own version of a comprehensive immigration reform bill yesterday to remind their GOP colleagues of this issue's urgency, but they need Republican support to make real progress. Meanwhile, House Republicans are reportedly working on a series of smaller-scale proposals after their party leadership refused to vote on the comprehensive immigration bill that the Senate passed with strong bipartisan support earlier this year.
---