Globally, 'girl power' should be much more than a slogan
Investing in the education and health of girls pays huge dividends. Now is the time to recommit to empowering girls and ending child marriage and human trafficking, not just because it is morally right but because it is the smartest way to build a more peaceful and prosperous world.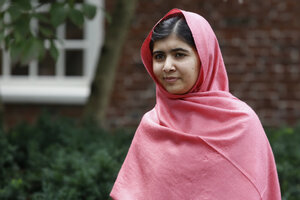 Jessica Rinaldi/AP/file
If you want to change the world, invest in a girl.
Today marks the second anniversary of International Day of the Girl, instituted by the United Nations General Assembly to promote the rights of girls, highlight the unique challenges they face around the world, and reaffirm a global commitment to protect and empower them. Given worldwide violence, extremism, poverty, and injustice, we cannot afford to cast aside the contributions that 850 million girls can make to build a safer, more prosperous, and equitable world.
Studies show that if a girl stays in school, receives health care, gains skills, and is safe from sexual and other physical abuse, she will very likely marry later, have fewer but healthier children, earn a higher income, invest in her family, and break the cycle of poverty at home and in her community. She will be more likely to use her education to increase agricultural production, improve health conditions for her family, and serve as a leader to resolve conflicts.
But in many societies, girls remain second-class citizens, unable to access basic rights like education and health, and are excluded from decisions affecting their own lives. One of the most serious challenges is the prevalence of child marriage and human trafficking. Millions of girls are married before they turn 18, many against their will and in violation of international laws and conventions. In the developing world, some brides are as young as 8 or 9. Young brides have limited education and economic opportunities, and are vulnerable to health complications from giving birth before their bodies are fully developed.
Most egregious is when child marriage intersects with human trafficking. Children are trafficked for forced marriage, as the demand for child brides interacts with poverty and tradition to fuel a lucrative trade in girls in many countries, including the United States. At any given time, 5.5 million children are victims of trafficking.
---