The men behind schoolgirl Malala
It's important to remember Pakistani men who support their daughters as Malala's father does. Zia Yousafzai is a champion of his daughter's education and activism. My father moved our family from Pakistan to England to help support my schooling. It's the Muslim thing to do.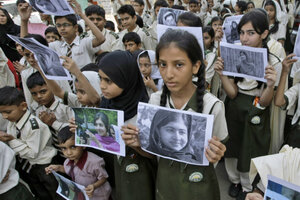 Fareed Khan/AP
Malala Yousafzai's courage has captured the world's attention, and so should the courage of her father, Zia.
The 14-year-old Malala was shot point blank by a male Pakistani Taliban operative Oct. 9 because of her activism for girls' education. Since the age of 11, she has been advocating for girls and against Taliban terrorism and lethal misogyny in Pakistan's Swat Valley, where the Taliban once banned girls' schooling. She's now recovering at a hospital in England – suddenly an icon for girls and women around the globe.
As people pray and hope for her progress (she's improving, according to news reports), it's important to remember the ranks of Pakistani men who support their daughters as Malala's father does. These are the Pakistani men we never read about and most of us will never know, but whose support is vital in standing up for the rights of girls and women.
Without them, Malala may never have pursued a life of activism. Her father was her champion for schooling. An educator himself, Mr. Yousafzai accompanied his daughter on nearly all of her public interviews and appearances. He now states he is merely a caretaker for a national treasure, recognizing how precious Malala is to her entire nation.
Her teachers included men. Her journey to school, often in difficult terrain and bad weather, was accomplished by a male bus driver (a courageous activity, given the resistance to girls' education in that part of Pakistan; indeed, she was shot in the bus on her way home from school). When she was attacked, Pakistani military men transported her to medical care.
---