Maggie vs. Gorby: the scene that 'The Iron Lady' forgot
The scripted and unscripted confrontations between Margaret Thatcher and Mikhail Gorbachev were of such epic consequence they could not be condensed into film. Yet we do Britain's first female prime minister a great disservice in omitting them.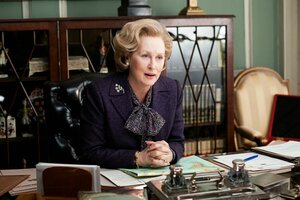 Handout/Reuters
When I saw Oscar nominee Meryl Streep star as British Prime Minister Margaret Thatcher in the film "The Iron Lady," she was so convincing, I was no longer sure whom I was watching, Maggie or Meryl.
I admit my prejudice. As an ABC News correspondent in London, I covered Mrs. Thatcher during the 1982 Falklands War and later during her several duels with Mikhail Gorbachev, dubbed Gorby.
Regrettably, however, the film does not include Thatcher's greatest tour de force. I suspect screenwriter Abi Morgan probably just could not fit the Iron Lady's finest hour into the 105-minute celluloid canvas.
Thatcher, more so than Ronald Reagan, was the Western intellectual engine that pushed against the Soviet Union until the Communist Party leadership imploded in 1991.
President Reagan's loathing of Soviet communism was visceral. He twisted the bear paw through America's muscular defense spending. He was also the actor, waving the flag of freedom on a world stage.
---