Election 2012: Hope beneath the hype
(Read article summary)
As the Republican presidential field firms up, get ready for 18 months of Election 2012 hype. But beneath the noise, remember that American voters are surprisingly hopeful.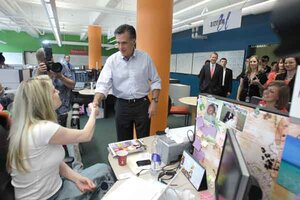 AP Photo/Carlos Osorio
Ready or not, the 2012 American presidential race has begun.
In the next 18 months, you'll hear thoughtful proposals, outrageous reactions, and predictions of catastrophe or paradise. There will be gaffes, sound bites, endorsements, and breathless reports noting shifts in public opinion. Hundreds of millions of dollars will be spent to woo and mobilize enough votes to win a job that pays $400,000 a year – not shabby pay but chump change for a smart lawyer or investment banker.
Sure, the office has cool perks (Air Force One, Camp David, a platoon of White House chefs), but there's little privacy, unimaginable criticism, and the subsequent need for lifetime Secret Service protection. Who would want the aggravation? John Adams called the job "the four most miserable years of my life." Less grumpily, Thomas Jefferson termed it "splendid misery."
Crafting important legislation, manning the situation room, and hammering out peace treaties is truly important work that requires intelligence, poise, and character. God bless the person who does this. There may be some ego involved. Maybe a lot. But no one is in it for the money. She or he wants to lead, to think intelligently, to solve problems and protect values.
Political reporters like the Monitor's Linda Feldmann know this territory. This will be the fifth campaign she covers. That means long rides on buses, endless rounds of rallies, stump speeches, and town-hall meetings. She's familiar with truth squads, attack ads, and damage control. You might think she'd be cynical by now. You'd be wrong.
---