Foodie nation: Why we're in the kitchen
(Read article summary)
Not so long ago, kitchens were smell, smoky, messy places far removed from dining. The food revolution wouldn't have happened if the kitchen hadn't gotten classy.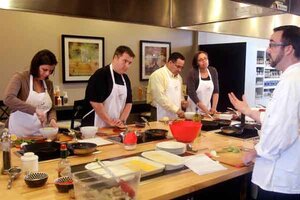 AP Photo/Al Behrman
If you are a fan of old houses, you've probably noticed that in most of them the original kitchen was no great shakes, especially compared with the dining room. Dining rooms were shrines to decorum. Kitchens were to be neither seen nor smelled.
Even in the grand houses of Newport, R.I., where few rooms escaped gilding or marblizing, most kitchens were just a step up from garages. They were workshops where menial, hot, smoky, messy, and sometimes dangerous processes took place. Blood was let, fat was rendered, bones were boiled.
No one in the 19th century and the first half of the 20th would have thought of inviting guests into a kitchen to help slice zucchini or stir a roux while ogling the stainless steel appliances and nibbling on cheese. Food prep was done behind the scenes. Grazing was for livestock. Butcher block wasn't a countertop choice.
Dining and cooking were barely connected. Dining was a time for dressing up, sitting down, clinking glasses, and gracefully shifting conversational partners between courses. The 19th-century French gourmand Jean Anthelme Brillat-Savarin called dining "one of the principal bonds of society." Though he occasionally amused his guests by whipping up a souffle at the sideboard, he seldom went beyond partaking of what his cook prepared.
Noting the difference between mere eating and dining, Mr. Brillat-Savarin (who, by the way, has a wonderful cheese named after him) observed that when "hunger begins to be satisfied, reflection begins, and conversation commences. The person who, hitherto, had been a mere consumer, becomes an amiable guest."
---