America's new culinary renaissance
We're becoming a nation of food fanatics, signing up for cooking classes, turning into gourmets in the kitchen, and making dining in or out the equivalent of a cultural event. Is America the new France?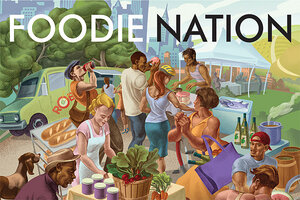 Nancy Stahl/John Kehe illustration
The clumps of cauliflower clouds suddenly part and a wash of sunshine engulfs the expectant crowd in an outdoor amphitheater here. It's a setting that would be spectacular even without the solar arrival: a fruit and vegetable garden on an island in a small lake in the Chicago Botanic Garden, where beds of alfalfa and garlic grow in sculptured rows.
The crowd of at least 150 people eagerly awaits the day's entertainment. Three rows from the front, a woman in black with sunglasses the size of headlights arrives early and sits between two seats saved with terra-cotta pots. Nearby, a young man checks the settings on his impressive-looking camera. In the front row, a retired physician passes the time with a thick book of crossword puzzles, glancing up occasionally at the stage.
Finally, a host introduces the featured act, Roger Waysok, who strides forward and, after a burst of applause, begins his performance ... creating a barley, feta, and tomato salad with fresh mint.
"All the fresh ingredients in here, I am passionate about," says Mr. Waysok, the executive chef of Chicago's South Water Kitchen restaurant, his knife poised over a red onion.
The chef series that runs from May to October at the botanical garden here draws hundreds of people each week. But it could be a demonstration held in almost any venue in America. In a land of fads and social movements, from fitness to feminism, now comes a new one – food.
---