Campaign 2012: Using horse sense to decide
(Read article summary)
Public opinion has been swinging wildly, but as the 2012 campaign moves into higher gear voters will start making up their minds. Maybe herd mentality isn't a bad way to decide.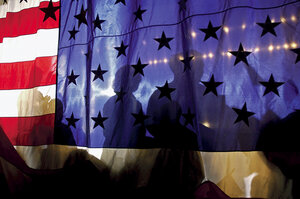 Andy Nelson/The Christian Science Monitor/File
Early next month, Iowans will drive through the winter night to stand in groups at caucus locations to show support for their favorite presidential candidate. Bless them for their fortitude. Then in fast succession will come primaries in New Hampshire and South Carolina. Those three states are small enough for politicians to get to know individual voters at county fairs, coffee shops, and house parties.
But the intimacy of those early primaries can't be sustained across a nation as big and diverse as the United States. That's why all eyes are on Florida as the state's Jan. 31 primary nears.
Florida is where campaigns have to demonstrate that they are industrial-strength operations. They need sophisticated hierarchies, complex efforts to get out the vote, and massive advertising budgets for multiple media markets. Florida is likely to be make-or-break in both the Republican primaries and the November general election. Linda's report makes clear that many Floridians are still making up their minds. Millions of other Americans, too.
So how do you decide? Do you vote on a single issue like climate change or taxes? Default to party loyalty? Immerse yourself in position papers? That's all good citizenship, but generations of political scientists have shown that voters' decisionmaking is mostly based on intangibles. The historian James David Barber, for instance, argued that voters judge a candidate not on the issues but on fuzzy qualities such as whether he or she has self-confidence and enjoys political life. The pollster Robert Teeter once observed that voters "know that the issues a president will have to face will change with time. But his character will always remain the same."
---
Follow Stories Like This
Get the Monitor stories you care about delivered to your inbox.