To end the euro crisis, will Europe sing Germany's song?
Merkel seeks fiscal prudence and other German-like economic practices in euro countries in return for more bailouts or Eurobonds. Is Berlin now Europe's moral leader?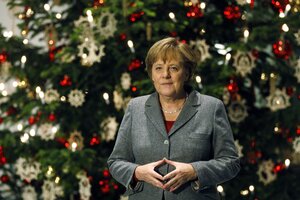 Tobias Schwarz/Reuters
In the film "My Fair Lady," a befuddled Professor Higgins begins a song with: "Why can't a woman be more like a man?" That line could well be altered for today's euro crisis, with the Germans singing:
Why can't the rest of Europe be more like us?
The euro crisis is now 18 months old and threatening the world economy. All eyes are on Germany's leader, Angela Merkel, to see how much she demands of profligate euro nations like Italy to, well, act more like Germany – before they are further rescued by the taxpayers of the continent's biggest economy.
Ms. Merkel sees a moral lesson in insisting that euro nations practice prudent spending, harmonious labor-business ties, and a kind of disciplined borrowing that avoids inflation. Germans talk of spreading their "stability culture," which includes living within one's means while also maintaining a welfare state.
Many of her critics just want more German money or Berlin's approval of Eurobonds in order to quickly end the crisis. Merkel, however, first seeks a commitment to rectifying qualities, expressed in altered treaties and reform of institutions.
Or as she put it last year: "This is about the primacy of politics. This is about the limits of the markets."
Poland's foreign minister, Radoslaw Sikorski, put a spotlight on Germany's role in a speech Tuesday before a Berlin audience. "You have become Europe's indispensable nation," he told them.
---