Trayvon Martin case: What cities can learn
Cities like Sanford must improve their community-building to reduce the kind of fear that might have led George Zimmerman to confront a hoodie-covered Trayvon Martin.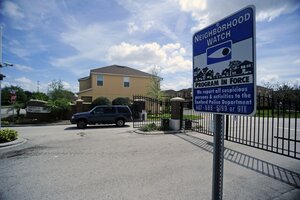 David Manning/REUTERS
Like many Florida cities, Sanford was hit hard by the Great Recession. Many of its 54,000 residents, along with police, tried not to let a bad economy inflame racial tensions or worsen crime.
But then a month ago, George Zimmerman was patrolling his gated community as leader of a neighborhood-watch group when he fatally shot Trayvon Martin, an unarmed black teenager.
Questions still remain about this sad incident: Was race a factor? Who attacked first? How did Florida's Stand Your Ground law influence the shooting?
For now, however, Sanford, like many cities, can draw this lesson from the incident: When people in a community fear each other, it is far better to build up community ties than to add more fear by increasing the police presence, forming more neighbohood-watch patrols, or loosening gun laws.
To use fear as an official deterrence to crime can only go so far to safeguard a broken community. In fact, it might even backfire by turning residents against police. Or, as may be the case with Mr. Zimmerman, the recent creation of his watch group and the addition of police patrols in his neighborhood may have contributed to his level of fear toward strangers, not lessened it.
Many cities have learned that the best way to fight crime is to bring people together, starting with things as simple as block parties, more sports and summer jobs for teens, or a healthy voter turnout for local elections. Mutual respect and even affection in the public sphere can reduce fear.
---